Dine at Thorn's Farm competition

Win a meal for two with wine at Thorn's Farm Wetherspoons.
Last date for entries is Wednesday 31st January 2018.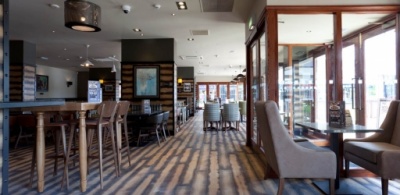 Here's your chance to win a meal for two with wine at Wetherspoon's Thorn's Farm.
Thorn's Farm offer a comfortable, attractive and welcoming environment in the heart of Yate: a pub in the community, for the community.
The prize consists of three courses and a drink each for two people from the current menu, and must be enjoyed on a mutually convenient date.
For your chance to win, simply send us your details using the form below, and we'll enter you into the draw.
If you're not the lucky winner, you can still explore Thorn's Farm's award-winning all-day menu, including breakfast and hot drinks, using responsibly-sourced ingredients and offering dietary options for adults and children.
Or, sample their large range of ale, global beer, continental lager, cider and leading spirits. And, help yourself to the free Wi-fi!
Book your table at Thorn's Farm:
11/17 South Parade, Yate Shopping Centre, Yate BS37 4BB
Tel: 01454 272500
For more information, visit: www.jdwetherspoon.co.uk/home/pubs/thorns-farm