Syrinx Baroque Wind Band competition

Win tickets to Chipping Sodbury Music Society's February concert.
Last date for entries is Thursday 31st January 2019.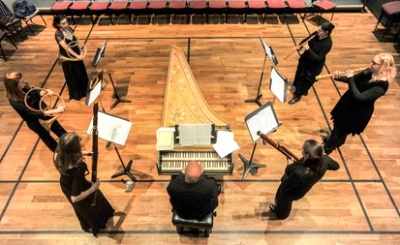 According to Greek mythology, Syrinx was a water nymph who transformed herself into a reed to escape the amorous advances of the god Pan.
Today, Syrinx is an ensemble dedicated to the performance of historical wind music, and you could win tickets to their latest concert, thanks to Chipping Sodbury Music Society.
They're offering two free adult tickets to their concert on Tuesday 12th February, 7.30pm at Chipping Sodbury Town Hall.
For your chance to win, simply send us your details using the form below, and we'll enter you into the draw.
From 14th to 18th centuries wind music could be heard everywhere from grand state occasions to the humblest village dance and it is Syrinx's aim to recreate this impressive tradition.
Chipping Sodbury Music Society has been presenting music in the town for over seventy years and sources talented musicians to play Jazz, Swing and Classical concerts. The atmosphere is friendly and informal and the Society is especially keen to welcome young musicians to meet the professionals and learn more about their chosen instruments.
If you're not the lucky winner of this competition you can still buy tickets; click here to view the event details and find out how.
If February 12th isn't convenient, you may arrange to use the tickets at a subsequent concert. Chipping Sodbury Music Society organise a series of seven concerts throughout the year - you can see dates and details in our events calendar.