Woodchester Mansion family visit competition

This competition closed on Tuesday 31st March 2020.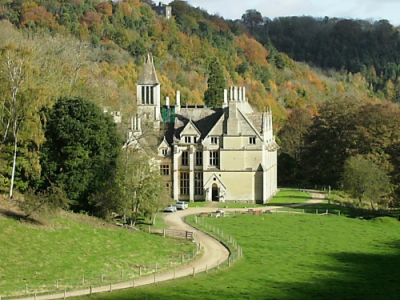 Take this opportunity to step back in time with your family, and admire the amazing unfinished Gothic Revival masterpiece that is Woodchester Mansion.
The Woodchester Mansion Trust is offering one lucky winner a family admission ticket (2 adults + 2 children) to visit the Mansion on any public open day during the 2020 season, and enjoy free drinks and home-made cakes in the café.
For your chance to win, fill in your details and tell us which two types of bats can be seen on the Woodchester Mansion live CCTV monitors, using the form below. (Hint - read more about the bat colonies here!)
Woodchester Mansion is a unique and amazing Grade I listed Victorian Gothic house hidden in a beautiful Cotswold valley near Nympsfield.
Building started about 1857, but stopped in the mid-1860s so floors and ceilings are missing, walls not plastered and windows unglazed. All the secrets of the construction of the Mansion are visible - something visitors will never see in another country house.
On Open Days visitors can see how the house was built, admire the fine carvings and look at the bats on CCTV. Refreshments are available and the surrounding Woodchester Park (National Trust) can be explored.
Woodchester Mansion will be open to the public every Friday, Saturday and Sunday from Friday 3 April until Sunday 1 November 2020, plus Bank Holiday Mondays.
The tea room will be open for hot and cold snacks and, subject to availability of volunteers, there will be guided tours.
To find out more about Woodchester Mansion, visit www.woodchestermansion.org.uk, info@woodchestermansion.org.uk or call 01453 861541.



Sorry; we are no longer accepting entries for this competition.