Chipping Sodbury 2021 calendar competition

Win a 2021 Chipping Sodbury Calendar - The Good Times.
Last date for entries is Sunday 31st January 2021.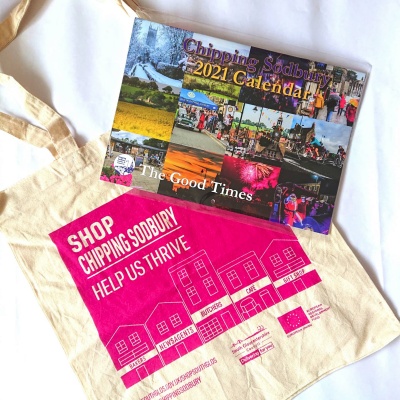 Celebrate "The Good Times" in Chipping Sodbury - enter now for your chance to win one of five 2021 Chipping Sodbury calendars, each with a "Help Us Thrive" shopping bag.
It's easy to take part - just fill in your details on the form below, and we'll enter you into the draw.
The calendar has been produced by Sodbury Chamber of Commerce to cheer everyone up during these tricky times. It's filled with colourful, busy photos of Chipping Sodbury and the surrounding area taken by talented local photographer Rich McD.
"Help Us Thrive" is a campaign launched by South Gloucestershire Council with local traders to encourage us to shop local, stay safe and support our wonderful High Street.
If you're not one of the lucky winners this time, a few calendars are still available at £6.50 for one, or two for £12, from John Howell Family Butcher on the High Street, Card Boutique on Broad Street and The Health Food Shop on Horse Street. Profits from calendar sales go back into the Chamber for the good of the town.
For more information about Sodbury Chamber, visit www.sodburychamber.co.uk, to find out more about RichMcD's photography go to www.richmcd.co.uk and click here for details of the "Help Us Thrive" campaign.
Let's hope 2021 sees a return of "The Good Times"!