Chipping Sodbury 2022 calendar competition

Win a 2022 Chipping Sodbury Calendar - Our High Street.
Last date for entries is Monday 31st January 2022.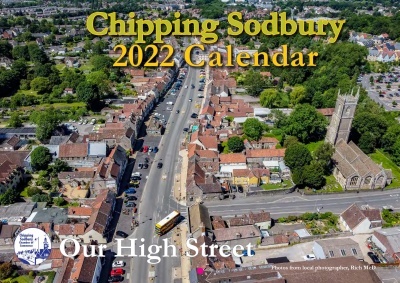 Celebrate "Our High Street" in Chipping Sodbury - enter now for your chance to win a 2022 Chipping Sodbury calendar.
It's easy to take part - just fill in your details on the form below, and we'll enter you into the draw.
The calendar has been produced by Chipping Sodbury Chamber of Commerce to showcase the town's High Street with views from the top of the street to the bottom, and is dedicated to the late Jim Elsworth.
Photos for the calendar were taken by talented local photographer Rich McD, who said: "The 2022 calendar was particularly difficult to put together as many of the events that happen in Chipping Sodbury were postponed due to COVID, so I just went looking for iconic views of the High Street. Hope everyone likes it."
If you're not one of the lucky winners this time, you can buy calendars at £6.50 each for 2 for £12 from The Card Boutique and the Tourist Information Centre. Proceeds from the Calendar go back to the Chamber for the benefit of the town.
For more information about Sodbury Chamber, visit www.sodburychamber.co.uk, to find out more about RichMcD's photography go to www.richmcd.co.uk.