Shire Way Community Centre
Next event
Tuesday 18th May 2021
10am: Adorno Community Day Centre Launch
Shire Way Community Centre
An exciting opportunity has arisen for older people and their carers in Yate, Sodbury, Frampton Cotterell and the surrounding areas. Since the pandemic, older people have had respite services cut and many of their community social events have been cancelled.
Adorno Companions founder Emma Doney has started Adorno Community Day Centre and aims to support up to 45 people per week across 3 sites, from 17th May 2021 onwards. The Day Centre is now taking bookings with day care provided between 10:00-14:00 every Tuesday, Wednesday and Thursday.
It has been an incredibly tough year for all of us, but for those who are full time carers looking after an older loved one, there has been no breaks, no visits from family members and limited social... Read more >>
adornocompanions.co.uk/
Email:

---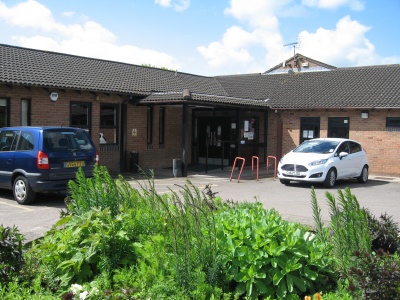 How to contact Shire Way Community Centre
The Centre, Shire Way, Yate BS37 8YS
Tel: 01454 273050
Website: www.shirewaycommunitycentre.co.uk
Email:
Facebook: www.facebook.com/midway.shireway?fref=ts


Regular Events
n.b. REDDS Stage and Dance School runs classes Monday to Saturday.
Monday
Line Dance Gold 10am-12noon
Shire Way Senior Citizens' Club 1-4pm
U3A Bridge Club 1-4pm
Stroke Club 2-4pm
Now or Never Fitness 4-8pm
Tuesday
Probus (2nd and 4th Tuesdays of the month) 9am-1pm
U3A Pilates 10.15-12.30am
U3A Kurling 2-4pm
SMILE Friendship Club (fortnightly) 7-10pm
Quiz Night (fortnightly) 8pm, with our own in-house quizmaster - come and join us for some fun and cash prizes
Now or Never Fitness 4-8pm
Wednesday
U3A Exercise Class 9.30am-10.30am
Gill Butler Line Dancing 10am-12noon
U3A Ukelele 10am-1pm
Pilates 11-12
U3A Line Dancing - 2-4pm
Ballroom/Latin dancing 6-10pm
Thursday
U3A Tap Dancing 11am-12noon
U3A Kurling 2-4pm
Zumba 6-10pm
Friday
Bounce 'n' Play 10am-12noon
Foster Carer Pit Stop 10am-12noon
Sunday
Open The Box - A Game of Chance - Money Prize 4-5pm
Southwest RC Truckers 10am-5pm most months
Bingo 7pm


Let us host your evening
Come to us for your charity fundraising event; we can offer a race evening with dogs or horses, skittles and/or kurling, various traditional bar games, and of course food.
Interested in holding seminars, conferences or training sessions for your employees or customers?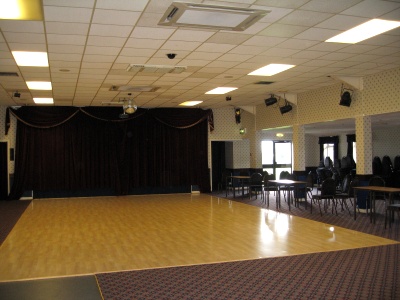 We can supply big screens and refreshments, from tea and coffee to three course meals.
We also show live sporting events.
If you would like a special evening of entertainment, please let us know - we have run evenings with Bavarian, Caribbean and line dancing themes.
We can arrange a variety of different tastes of music from heavy metal to modern pop, blues and tribute bands.
Does your company have a team looking for a venue? We welcome darts, pool, skittles or poker teams, or players to form new teams.


Rooms for Hire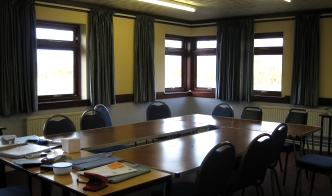 Main Hall
Our Main Hall is licensed to hold up to 180 people at a function. It has a stage, its own bar and a dance floor.
Skittle Hall
The Skittle Hall has two alleys, which can be hired for private games. It can also be converted into a function room for up to 150 people, with its own bar and a dance floor.
Large Activity Room
This room will hold 25-30 people depending on the function. It is very popular with our customers as a venue for holding children's parties.
Restaurant
Seating about 40 and overlooking the future playing fields across to the hills of Wales.


Midway Social Club
Formed in 1983, the Midway Social Club runs the bar facilities at the Shire Way Community Centre.
The club provides a pleasant Lounge Bar for members to drink socially with family and friends. Now with adult-only area. Children are welcome, but must be kept under parental control.
There is a spacious patio for members to enjoy their drinks outside, with a large enclosed play area for the children.
A number of sporting groups have been formed to give members the opportunity to represent the club and compete locally. These include skittles, darts, cribbage, pool and football.
Midway Social Club is registered under the Industrial and Provident Societies Act. Registration number 24477R.


Accessibility
Our Centre is built all on one level, with a ramp for wheelchair access, wide or double doors throughout and two disabled toilets, as well as an induction loop in both halls.


History of the Centre
In 1980 Westerleigh Parish Council supported by Dodington Parish Council called a public meeting to discuss ways of providing a much-needed community building in South Yate.
Less than three years later, the Shire Way Community Association proudly opened the Shire Way Community Centre. It was soon evident that the building was too small.
After four years, an extension was added on the South side to enlarge the social facilities, whilst the community facilities were enhanced with changing rooms for stage and sporting events.
A further expansion of the building took place in 1993, when a kitchen extension was added, enabling the Association to provide a full catering service for private functions.
Plans exist to provide sports pitches on over 13 acres of adjoining land, and sources of funding this development are currently being investigated.






Forthcoming events
Tuesday 18th May 2021