Kingsgate Park
Next event
Saturday 7th October 2017
10am: Kingsgate Park Nature Reserve Ponds Workday
Kingsgate Park
Meet at the Scott Way entrance to Kingsgate Park, Scott Way, Yate, BS37 4NW (parking is available at the entrance of Shackleton Avenue).
We shall undertaking maintenance of this important amphibian site including the cutting back of vegetation. Please wear gloves and wellington boots.
Cost: Free. No booking required.
Organised by Southwold Local Group of Avon Wildlife Trust.
Avon Wildlife Trust's Southwold Group is very active and would very much welcome more like-minded people to join them. They organise workdays, walks, surveys, fundraising events and it only takes a couple of hours every other month.

---
About Kingsgate Park
Kingsgate Park is an excellent leisure area situated between Sundridge Park and Scott Way.
It's perfectly possible to drive past it without noticing it's there, but it's well worth exploring.
It's accessible on foot by various entrances from Kenilworth, Elmwood, Sunningdale and Scott Way, and there's a small car park located at the end of Elmwood, off Sundridge Park.
There's a large playground in the centre of the park, with an adventure area that will make the adults jealous!

The lake is home to swans, ducks and newts, and the eastern edge of the park is a dedicated nature reserve area. Use of model boats is permitted on the lake.
In 2003 Yate Town Council took over management of the park and the Friends of Kingsgate Park' group was formed to assist the Council to do this in the best possible way.
Details of the success of this partnership can be found on the Yate Town Council website.
If you would like to get involved with the 'Friends of Kingsgate Park', please contact Yate Town Council who will be pleased to pass your details on.


Yate Rocks in the Park
2016's event was rather wet, so here's a selection of photos from 2015 kindly provided by Rich McD Photography:

In Bloom Success!
The Friends of Kingsgate Park won an outstanding Level 5 Neighbourhood Award in South West in Bloom 2013.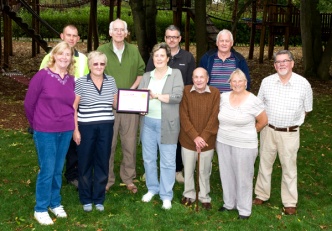 The Friends of Kingsgate and Yate Town Council employees with their 2011 South West in Bloom 'It's Your Neighbourhood Award' - Photo kindly supplied by Dave Bruten


Opening Hours
The park gates are locked at night; the park is open from 6am and closes at 10pm in the Summer, 9pm otherwise.






Forthcoming events
Saturday 7th October 2017