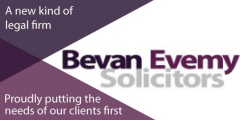 Direct, expert legal advice just how & where you want it.
We will be working throughout the lockdown but our offices will not be open to the public.
All of our meetings and appointments will be by telephone or zoom only.
We are still offering our free 30 minute initial consultations so everything is running as normal, just no face to face meetings.
No.3 Northavon Business Centre, Dean Road, Yate BS37 5NH
Tel: 0333 320 8600

Web: bevanevemy.co.uk/
E-mail: