Shopmobility Yate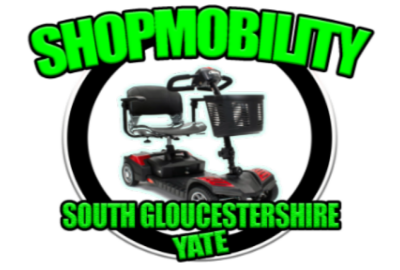 How to contact Shopmobility
For more information please contact Project Worker Sheridan Crew at Shopmobility South Gloucestershire, Yate Shopping Centre, on 01454 868718 or 07999 574474 (mobile) during office hours, or by email: .
Latest News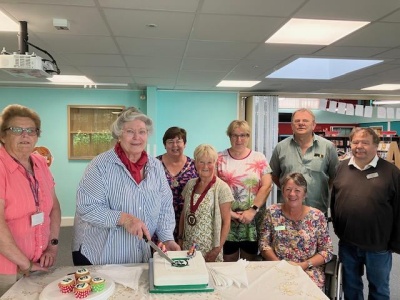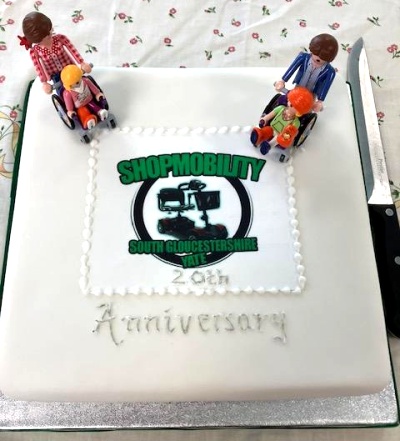 Anyone with an English bus pass can now use our service free of charge, thanks to the support of WECA (West of England Combined Authority).

We have a fundraising platform with The Good Exchange.
Please click here or use your mobile phone to activate the QR code to support us.


What is Shopmobility?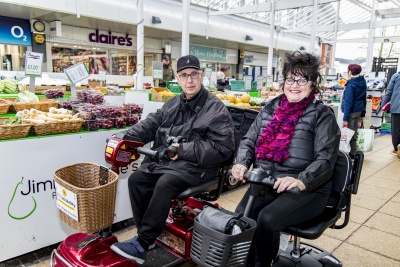 Shopmobility offers scooter and wheelchair (powered and manual) hire to anyone with limited mobility, to give them the freedom to visit shops and leisure facilities in Yate.
Anyone is welcome: young and old, with temporary or permanent disabilities or injuries. You do not need to be registered disabled to use Shopmobility.
Shopmobility can deliver a scooter/wheelchair to you at Yate shopping centre bus stop on these days.
It is advisable to book in advance.
Click here to download the Chair's 2022 AGM report.
Click here to download a report on accessible transport.
Click here to download our users' survey, published October 2019.
Click here to download our information letter.
Click here to download our information leaflet, including hire charges.


Longer-Term Hire Of Scooters and Wheelchairs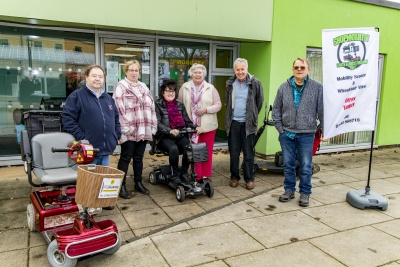 Going away on Holiday? Have relatives or friends to stay in the area? Temporary Disability or Sudden Illness? Scooter Breakdown? Stuck at Home and Wish to Get Out?
Did you know that Shopmobility South Gloucestershire could provide longer-term hire of scooters that dismantle and wheelchairs to those with mobility problems?
This may be of benefit if you a relative or friend wishes to get around and about whilst on holiday.
This may also be useful to those experiencing a temporary disability, awaiting repair of your own scooter or wishing to use before deciding whether to obtain your own.
Please get in touch with us if you require further information.


Shopmobility seeks new volunteers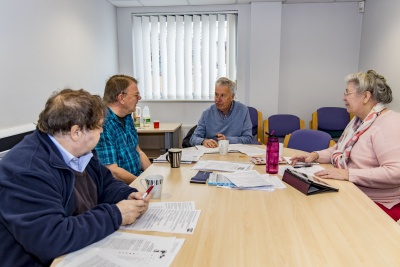 We are seeking volunteers who are prepared to serve as committee members with a caring manner who may be interest in undertaking the role of Trustee or Chairperson.
Our aim is to support people with physical disabilities and their carers to improve quality of life and reduce social isolation. Meetings are normally held every 2 months.
Trustees may be needed to support the Project Manger to assist at the office when required or to assist undertake specific tasks. This should provide an overview of project through the work undertaken both at committee and operational level.
This overarching and eclectic nature of the role of committee member/Trustee may appeal to people from a social care perspective with an in interest of working as a member of a team as a committee member and with the Project Manager, the public, community and statutory other bodies.
The role could also appeal to those interested in community sector involvement including raising the profile of our project and sharing ideas with other agencies in utilising both our own and other services more effectively.
We welcome people who can use their own initiative and offer their own skills and ideas to contribute to the aims and objectives of the project. We are for example working with agencies to identify people who may be socially isolated by virtue of a disability and in seeking ways to support people access our service.
Training and support will be provided to understand the wider issues of working within the Charitable sector and the importance of funding, promotion and direct support to people who use our service.
Please ring Project Manager Sheridan Crew on 01454 868718 or email should you feel you can assist us.


About Shopmobility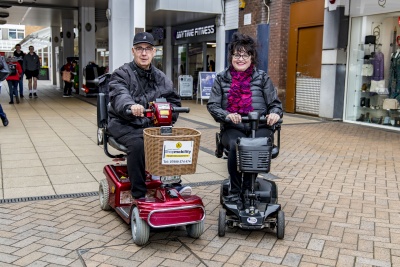 Shopmobility is a non-profit-making charity (Registered charity no. 1107379), funded by South Gloucestershire Council, the National Lottery, donations, sponsorship and grants.
The Shopmobility service is based in Yate Library, and attracts users from all over South Gloucestershire, and beyond. The first meeting to discuss setting up a local Shopmobility service was called in 2003, by Keith Holloway from Thornbury, with the service starting in 2006.
If you have a South Gloucestershire Council Diamond card then you can use that on the service.
Over the years by the Scheme has received funding from Scooter/Wheelchair Hire and donations, and has had funding from funders such as South Gloucestershire Council; Tescos; The National Lottery; local Parish and Town Councils in Yate, Sodbury and Dodington, and other sources too. We are very grateful for the generosity of these funders.
If someone is interested in making a donation or considering leaving a legacy to Shopmobility they should contact Shopmobility. The scheme is also very grateful to Yate Shopping Centre and Yate Library for their help and support.
The scheme does an annual service users survey, and many users tell of how the service also helps them socially by being able to get out and about, and it helps with their health generally and also helps to reduce social isolation. There have been many calls for increased opening hours.


Yate and Sodbury Community Transport
For information about Yate and Sodbury District Community Transport, see the transport page.