Yate And Dodington Priority Neighbourhoods
Next event
Thursday 11th November 2021
12noon: Yate and Dodington Priority Neighbourhoods Meeting
12-2pm
We host 2 meetings per year led by Sato with a Cranleigh Court focus and 2 meetings a year led by Alex with an Abbotswood focus. Meetings bring together local organisations and service providers to deliver improvements to the Priority Neighbourhood areas, and share updates and information.
2021 Meeting Dates: Thurs 11 February, Thurs 13 May, Thurs 12 August, Thurs 11 November

---
Click to see more events for Yate And Dodington Priority Neighbourhoods.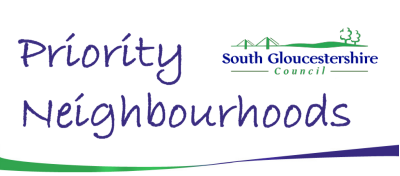 What are Priority Neighbourhoods?
They are areas where higher numbers of people fail to achieve their full potential, have poorer health outcomes, are employed in less well-paid jobs or are unemployed and there are higher levels of crime.
Each has a community lead group that brings together local organisations and service providers to deliver improvements, according to an action plan based on local priorities.


Where are they?
There are six priority neighbourhoods in South Gloucestershire:

Cadbury Heath
Filton
Kingswood
Patchway
Staple Hill
Yate and Dodington
Each year the council produces a profile for each priority neighbourhood which reports on a range of 'proxy indicators' of deprivation.


How do they work?
South Gloucestershire Council focuses resources and encourages initiative in the Priority Neighbourhoods, supporting organisations and local people to work in partnership:

"All residents should have the same opportunities to enjoy a good quality of life and achieve. Every community has assets – skills and talents of local people, services, activities, buildings, and open spaces etc. which benefit the community and could be further developed. The areas that we are working in are strong and vibrant. By pooling ideas and resources such as time, money and skills, much more can be achieved if we work together. We can all have a role to play in the community to make a difference. As well as mobilising our existing resources, working together helps to bring in external resources too."
The council and its partners including the police, health authorities, housing, fire service and voluntary agencies have made a commitment to work with voluntary agencies and community groups to make a difference in these areas.
The role of the priority neighbourhoods team within the council is to help coordinate the approach such as:
supporting the community lead groups in their running and in any new project
linking with departments and agencies to maximise the potential of their involvement
gathering information on services and new initiatives both national and local to inform our work
How you can get involved
The community lead groups welcome decisions and ideas from residents in the Priority Neighbourhoods, and engagement with the community to deliver the projects.
Details of upcoming events you might like to attend in your area are displayed on this page, and in our What's On section.
If you feel you could contribute in any way, please call 01454 863990.


Community Learning Courses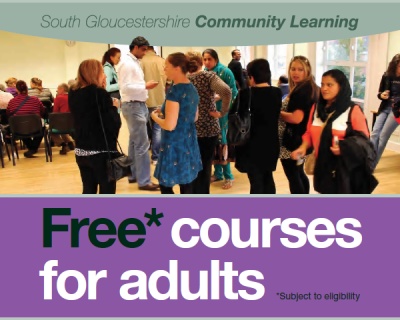 South Gloucestershire Community Learning Service offer a range of FREE part-time courses in community venues to help residents to:
gain a qualification
improve job skills
help their children's learning
become more involved in the local community
Click here to see what's currently available.
Abbotswood Community Plan
The plan reflects the priorities of Abbotswood residents and looks ahead at what can be done to address the issues raised and sustain and improve the area for all users.
It is based on the results of a questionnaire, which was delivered to around 2000 homes, businesses and interested groups in April 2014.
The questionnaire itself was prepared by a group of local residents including Abbotswood Action Group and Jacobs Well Community Groups after an initial consultation with residents, and was tailored to the topics raised by them.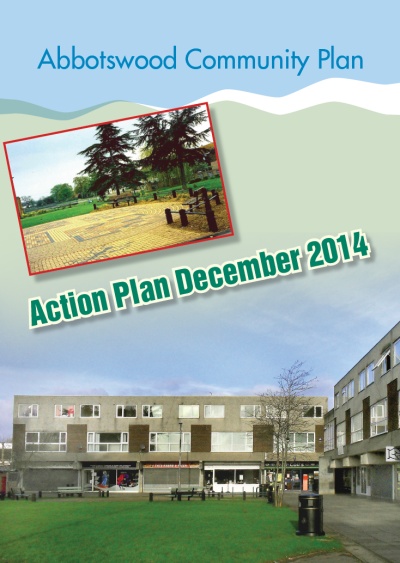 Click here to read the plan.
The key benefit of having a Community Plan is that it provides clear and robust evidence of the needs and priorities of the community to local authorities, external agencies and other organisations, whose decisions have an impact on the area.
Abbotswood Action Group will continue to take the findings forward with the appropriate agencies and volunteers and everyone is encouraged to take part.


Abbotswood Friendship & Exercise Club
Friendship and exercise clubs are for older people who like gentle exercise and games as well as socialising with a cup of tea or coffee.
All the clubs are managed by local community groups and coached by a friendly, approachable instructor with a specialist qualification in exercise and health for older people.
To find out more, please call: 01454 864005 or 07825 155 954 for a friendly chat. The first session is free (a small fee per session thereafter).
The club runs at St. Nicholas Family Centre, Chargrove, Yate BS37 4LG every Monday: 10:00 – 11:30am. You may also call St. Nicholas Family Centre: 01454 324712.



Forthcoming events
Thursday 11th November 2021