Armadillo
Next event
Sunday 31st January 2021
7pm: Alphabets LGBTQ Youth Group
Armadillo Youth Venue & Cafe
7-9pm
Alphabets LGBTQ is Open! Following government guidance, for youth services, we can run small group sessions for members. We will need to ensure social distancing, using the track and trace app, hand washing or hand sanitizer and wearing masks.
Therefore we are able to run small groups for LGBTQ young people. We do need to know who is attending so please get in touch in advance.
For more information call 01454 869 441, click below or join our closed Facebook group https://www.facebook.com/groups/LGBTQyate/

www.diversitytrust.org.uk/young-p...

---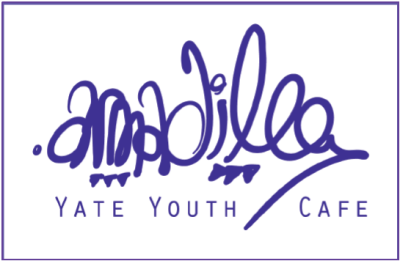 Armadillo Youth Cafe & Venue Temporary Closure
In light of recent updates and government guidelines, we have taken the decision to temporarily close the venue to the public. This will be applicable for all youth session, cinema events and bookings (over 10 people) until further notice.
We will keep you posted and update when we learn more.
Should you have any questions, please contact us using the details below.
We apologise for any inconvenience this may cause.
Stay safe everyone. We'll see you again very soon.


How to contact the Armadillo
Armadillo Youth Venue and Cafe, Station Road, Yate BS37 4FW
Phone: 01454 869 441
Website: www.yatearmadillo.co.uk
Website: www.facebook.com/yatearmadillo
Email:


Opening Hours
| | |
| --- | --- |
| Monday | 4-9.30pm |
| Tuesday | 4-9.30pm |
| Wednesday | 4-9.30pm |
| Thursday | 4-9.30pm |
| Friday | 7-10.30pm |
| Saturday | 10am free film, 1-6pm |
| Sunday | Available for Cinema Parties |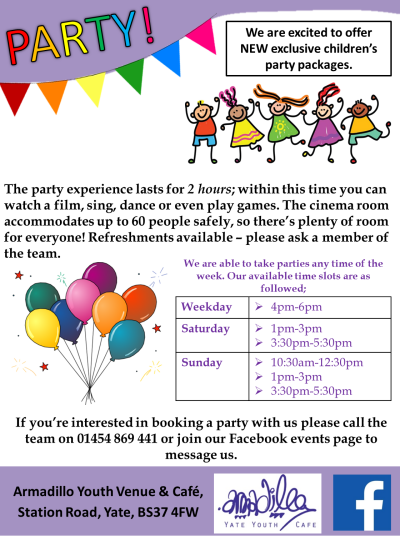 Hiring Prices
The Armadillo has rooms for hire to anyone looking for an innovative space to hold meetings, parties, or community groups.
With three unique rooms to choose from and a beautiful 60-seater Cinema, any event you hold with us is certain to impress.
The Armadillo hires spaces to everyone, catering for all needs - big or small!
Please click here to download our current prices (April 2018-March 2019) contact the Events Team for more information on availability and prices on 01454 869441.


Yate Men's Shed
Even though this charity is called "Yate Men's Shed", we are not exclusively for men! The Yate Men's Shed charity aims to be self funding and to provide a venue for older people in our community to meet up, to pursue their practical hobbies and interests and to socialise. There are many groups aimed at ladies, but few that offer things of practical interest to most men.
There are many practical ideas we wish to pursue, ranging from making bird boxes, car mechanics, fixing bikes, making electronic projects and model aircraft, to participating in larger community projects, or working with other Men's Sheds in the local area.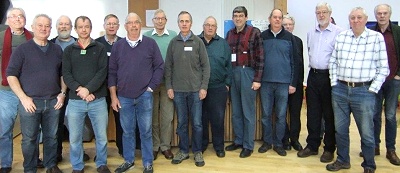 An important aim is to provide social contact and opportunities to work with other like minded people. So, if you would like to join us you would be very welcome.
We meet on Thursday mornings at 10:30 for about an hour or so. We are fortunate to enjoy the kind hospitality of The Armadillo youth centre, near Yate leisure centre. Why not come along and join in?
Click here for contact details.


About the Armadillo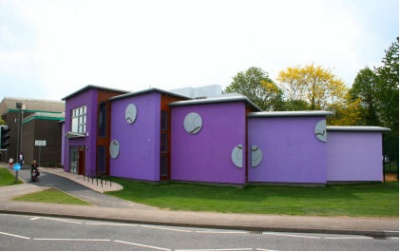 The Armadillo Youth Venue and Café in the heart of Yate provides a contemporary, safe environment for all young people of the locality aged between 11 and 19 to use and enjoy.
Named by local young people in recognition of its distinctive shape, and painted a vivid purple colour,the 200-capacity centre is designed to exacting environmental standards and offers high-quality facilities including a café with internet access, DJ booth, fully-equipped band area and a fantastic 60-seater cinema.
As well as fostering a spirit of enterprise among those involved in its operation, the centre aims to help tackle anti-social behaviour within the town by providing a safe and stimulating environment for local young people to socialise.
The centre is funded from a range of public and private sector sources with the majority coming from Yate Town Council and South Gloucestershire Council. Merlin Housing Association also funds young trainee staff.


What's Inside?
At the heart of the Armadillo is the Café, which provides hot and cold food as well as a variety of refreshing cold drinks, good quality coffee, tea and hot chocolate.
The Armadillo provides a host of facilities and activities for young people to enjoy in a relaxed environment, including:
a band practice room
a top of the range sound system, stage and lighting setup. A vibrant programme of musical events and gigs is being put together, working with local performers, bands and acts. There is also a band rehearsal facility for up-and-coming bands to hone their skills.
a state of the art 60-seater cinema, fitted with the latest high definition facilities and run by a team of young people. The cinema will show a variety of new and classic films, along with big sport events and TV shows as requested by customers.
computer stations for young people to browse the web whilst enjoying fresh food and drinks from the cafe.
a large recreational area equipped with soft furnishings, pool table with multiple wide screen TVs equipped with XBOXs and PS3s as well as a Wii console.
an outdoor area for relaxing and even enjoying the occasional barbeque (weather permitting!)
In addition to the above, the Armadillo will be offering workshops, which will give young people the opportunity to get involved with activities and learn new skills.


Band Practice Room
The Armadillo offers a spacious room for bands (maximum capacity 8 people) with brilliant high-tech equipment at realistic prices for the youth of today!
Anyone is welcome to a FREE ONE HOUR trial session.
Click here for current prices and more information.
To find out more about the Armadillo Cinema, click here.






Forthcoming events
Sunday 31st January 2021