Armadillo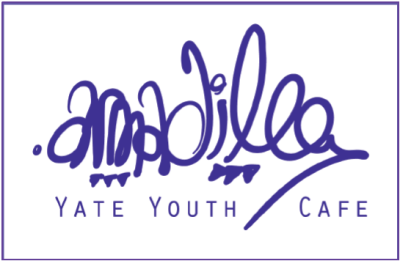 How to contact the Armadillo
Armadillo Youth Venue and Café, Station Road, Yate BS37 4FW
Main facebook page: https://www.facebook.com/TheArmadilloYate
Youth sessions facebook page: www.facebook.com/yatearmadillo
Email:
Phone: 01454 869441


About the Armadillo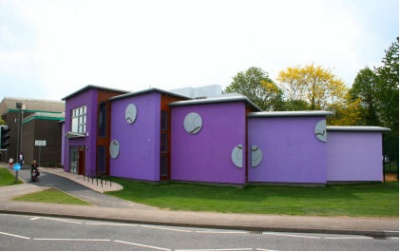 The Armadillo Youth Venue and Café in the heart of Yate provides a contemporary, safe environment for all young people of the locality aged between 11 and 19 to use and enjoy.
Named by local young people in recognition of its distinctive shape, and painted a vivid purple colour,the 200-capacity centre is designed to exacting environmental standards and offers high-quality facilities including a café with internet access, DJ booth, fully-equipped band area and a fantastic 60-seater cinema.
As well as fostering a spirit of enterprise among those involved in its operation, the centre aims to help tackle anti-social behaviour within the town by providing a safe and stimulating environment for local young people to socialise.
The centre is funded from a range of public and private sector sources with the majority coming from Yate Town Council and South Gloucestershire Council. Merlin Housing Association also funds young trainee staff.


What's Inside?
At the heart of the Armadillo is the Café, which provides hot and cold food as well as a variety of refreshing cold drinks, good quality coffee, tea and hot chocolate.
The Armadillo provides a host of facilities and activities for young people to enjoy in a relaxed environment, including:
a band practice room
a top of the range sound system, stage and lighting setup. A vibrant programme of musical events and gigs is being put together, working with local performers, bands and acts. There is also a band rehearsal facility for up-and-coming bands to hone their skills.
a state of the art Youth sessions facebook page: 60-seater cinema, fitted with the latest high definition facilities and run by a team of young people. The cinema will show a variety of new and classic films, along with big sport events and TV shows as requested by customers.
computer stations for young people to browse the web whilst enjoying fresh food and drinks from the cafe.
a large recreational area equipped with soft furnishings, pool table with multiple wide screen TVs equipped with XBOXs and PS3s as well as a Wii console.
an outdoor area for relaxing and even enjoying the occasional barbeque (weather permitting!)
In addition to the above, the Armadillo offers workshops, which give young people the opportunity to get involved with activities and learn new skills.