Convenience Store and Petrol Station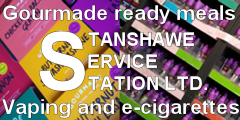 In a rush, but want a gourmet dinner on the table in minutes? Check out the SPAR convenience store's new range of Gourmade ready meals - including vegetarian options.
Sample our ever-evolving range of vaping and e-cigarette products and CBD oil, including guest flavours. Brands of liquids and hardware you can buy from us include Smok, Aspire, Vampire Vape, Liberty Flights, Innokin, Vapouriz, Aquavape and Double Drip.
We also have a wide range of food and drink, with beers, wines and spirits at reasonable prices, and food and drinks to take away. Drinks include fairtrade Smokin' Bean coffee in biodegradeable cups made from vegetable material: regular £2.40, large £2.70. FREE syrup shot, FREE extra shot of coffee... Use your loyalty card to buy 9, get the next one free.
The Shell fuel station offers petrol and diesel for all makes and models, as well as Shell V-Power and Shell FuelSave. Pay at pump, and download the Shell Go+ app to earn rewards on fuel and in store.
We're open MONDAY TO SATURDAY 8am to 8pm, Sunday 10am to 6pm.
Westerleigh Road, Yate BS37 4BG
Tel: 01454 318962

Web: www.stanshawservicestation.co.uk/
E-mail: