Convenience Store, Petrol Station, Workshops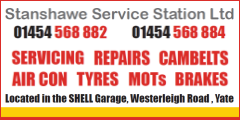 We offer MOTs, servicing and repairs, along with petrol and a convenience store. Close to all of Yate's amenities, we're a convenient place to drop off your car.
Sample our ever-evolving range of vaping and e-cigarette products including our ever-growing range of disposable nic salt devices: like our facebook page to see new products in.
We also have a wide range of food and drink, with beers, wines and spirits at reasonable prices, and food and drinks to take away, including F'real premium customisable milkshakes. Drinks include fairtrade Smokin' Bean coffee in biodegradeable cups made from vegetable material with a FREE syrup shot and a FREE extra shot of coffee. Use your loyalty card to buy 9, get the next one free, and always get a 10% hot drink discount if you have the Shell Go+ app/card.
The Shell fuel station offers petrol and diesel for all makes and models, as well as Shell V-Power* and Shell FuelSave. Pay at pump, and download the Shell Go+ app to earn rewards on fuel and in store. *Shell V Power unleaded remains up to 5% bioethanol content.
We're open Monday to Friday 6am-10pm, Saturday 7am-9pm, Sunday 8am-9pm.
For MOTs, servicing and repairs call 01454 568884 or 568882
For general enquiries call 01454 318962
Westerleigh Road, Yate BS37 4BG
Web: stanshaweservicestationltd.co.uk/
E-mail: