Ridge Wood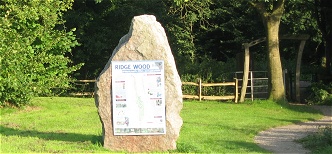 Owned by Hanson Aggregates, Ridge Wood is long strip of woodland on steeply sloping ground running along the Yate/Chipping Sodbury boundary near the old Barnwood quarry, and is managed by South Gloucestershire Council and the Friends of Ridge Wood group.
It comprises 4.8 hectares of both mixed broad-leaved woodland and remnants of Victorian parkland trees.
The council has been working on a woodland management programme which has opened up the site for public access and recreation, and it is an important site for nature conservation because it attracts a wide range of wildlife.
Access to the wood is from the easternmost corner of Greenways Road, Jubilee Gardens off Melrose Avenue, and Quarry Road.
At each entrance an information board tells of the wood's history and wildlife.

Within the wood there is a solid path that follows the western edge and links the three entrances, plus there are several other (muddier) permissive footpaths to explore.
The southern edge of the wood meets the Frome Valley Walkway for further walks east and west.
No bikes are permitted in the wood; see the Ridge Wood website for further information and advice.
Help the Friends of Ridge Wood
Join in the fun! Help the Friends of Ridge Wood manage this much valued, wildlife-rich woodland.
All are welcome - we work hard but have lots of parties!
For more information please email: