Yate Women's Institute
Next event
Monday 10th February 2020
7.30pm: Yate Women's Institute
Poole Court, Yate
Tudor Queen Dressing - Raffle
We are a newly formed group in Yate offering women of all ages a chance to meet with like-minded women for community and chat, plus a varied programme of talks and activities.
Come along or contact us for more details!

yatewiavon.wixsite.com/yatewi
Email:

---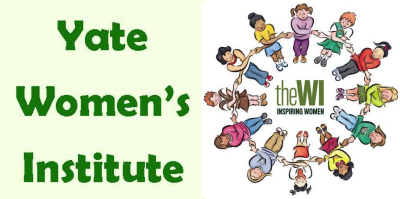 We are a newly formed WI in Yate and a friendly group of women who would love you to come and join us at our meetings.
We aim to appeal to a wide variety of interests and hope to organise a variety of smaller interest groups as well as trips throughout the year.
Meetings are held on the second Monday of the month in the Heron Suite at Poole Court, Yate, BS37 5PP, 7.30-9.30pm. Doors open at 7pm. Refreshments available.
See the events listings at the bottom of this page for details of upcoming meetings.
We are always pleased to welcome and offer friendship to visitors and new members.
Contact us for more information: yatewiavon.wixsite.com/yatewi, www.facebook.com/groups/YateWI or email:
For more information about the Women's Institute nationally, click here to visit www.thewi.org.uk


Latest Meeting
2019 ended well for Yate WI with an invitation to the Mayor's reception where Becca, our president, was presented with a grant cheque. During the reception, Becca and I happened to sit with a couple who are collating the results of the survey about what Yate has to offer over 50s, a very interesting conversation, looking forward to seeing the results. We also enjoyed a wonderful buffet!
At our first meeting of 2020, we welcomed several new members and visitors, then enjoyed a presentation by Richard Lewis of Great Western Air Ambulance. Richard explained the service has a helicopter and two fully equipped cars which are dispatched on average 5 times daily, with a critical care doctor and paramedic on board. He covered the history of the service, the area covered (a population of 2.1 million) and stressed the GWAA is a charity dependent on donations and how money can be raised by sponsored events, payroll giving, business sponsorships, etc. I think we all enjoyed the talk and hoped never to need the service!
After a social tea and biscuit break, Becca reminded members of the continuation of our social get-together at The Cupcake Fashion Tearoom. We will start a walking group, firstly joining walks from S.Glos walking programme then member Sally will organise walks for the group; several members expressed an interest in visiting Bristol Blue Glass; other members are looking for a suitable venue for a craft group – lots to look forward to. At our next meeting Sam Rees, a member of The Tudor Queen Experience group will demonstrate dressing a Tudor queen, the many pieces and layers that were put together to make the complete gown required if you were a Queen living in Tudor times.
There is always a warm welcome for visitors and prospective new members!
Barbara Potter






Forthcoming events
Monday 10th February 2020
Monday 9th March 2020
Monday 6th April 2020
Monday 8th June 2020
Monday 13th July 2020