Yate's Heritage Map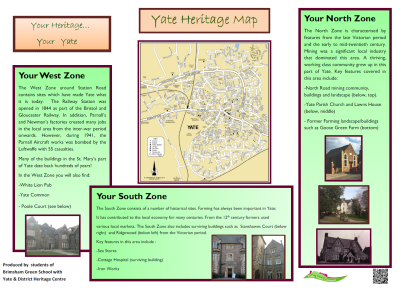 Discover more about Yate's past through a heritage map highlighting and explaining the town's key historic features.
There will very shortly be a complete map to view at Yate Railway Station, with three smaller maps in the relevant locations. The team are also hoping to install a complete map at Yate Shopping Centre.
The North Zone map is already erected in Brimsham Park and the South Zone map in Kingsgate Park.
The West Zone map will be either be at the junction of Station and Cranleigh Court Roads or by the Sure Start Centre on Cranleigh Court Road, hopefully by the end of February.
Click here to download a .pdf of the Yate Heritage Map - All Zones.
There's also extra background content to complement each map here on MyYate.co.uk.


Explore the Three Zones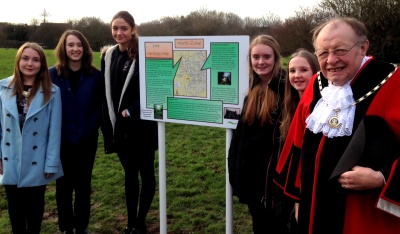 Click the links below to read more detail about the heritage sites features on the three zones of the Heritage Map
Brimsham Green School students and Yate Heritage Centre have collaborated together to produce the Yate Heritage Maps.
History students researched and provided the heritage content, and Art students produced the design, with Compass Graphics providing the hardware design.
The Friends of Yate Railway Station have provided support while Yate Town Council have funded 4 of the maps and the Yate Community Plan the fifth.
This has been a rewarding project and will inform the local areas of Yate of their heritage. The maps are divided into North, West, South and General to give local people a clearer idea of their immediate heritage.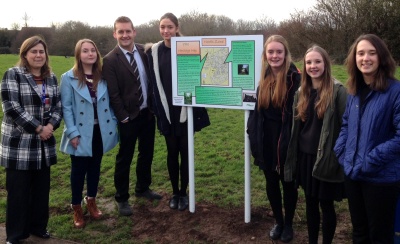 This project is supported by:
The photos show Brimsham Green School students with Yate Mayor Wully Perks and their teachers Duncan Hansford and Elly Hoyle at the launch of the maps.



To find out more about Yate Heritage Centre, click here to visit their website.
For more details of events at Yate Heritage Centre for you to enjoy, visit their MyYate webpage.